Mardi Gras Masks: Celebrations in Disguise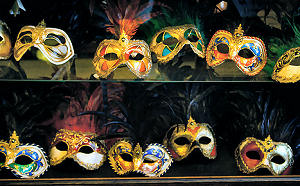 Mardi Gras is a pre-Lent festival that celebrates humanity in disguise on the international level. From Europe to the Caribbean and the United States to Canada, Mardi Gras is a day of celebration right before Shrove Tuesday, or Ash Wednesday. The earliest accounts of Mardi Gras took place during the 14th and 15th century in Europe.
Mardi Gras is actually a Catholic Holiday which has evolved to bigger celebrations and festivities in various parts of the world. It is quite similar to the Carnival in Venice except that it does not extend over a few months. Mardi Gras is distinct for its colorful decorations and lively spirits. The Mardi Gras mask is a symbolic and significant feature of the entire celebration.
Mardi Gras is widely recognized as a large scale festival in New Orleans, Louisiana. Mardi Gras was introduced to the United States by the French in the city of New Orleans in 1699. The French explorers arrived to town during the holiday and began to celebrate according to tradition. They wore masks in the streets and participated in processions. Over time, New Orleans became influenced by Hispanic versions of the festival but never lost the French essence.
Masks are a central feature of Mardi Gras and are worn during masked balls, street parades and night time parties. They come in all sorts of shapes, sizes and colors. Mardi Gras masks tend to have some influence of Venetian half-face masks that are adorned in gems, feathers and brightly colored paint.
The idea of identity is a major theme during Mardi Gras and other similar celebrations. It is a way of concealing ones identity from friends and neighbors in order to freely participate in all sorts of activities. Mischievous behavior has been a long standing aspect of Mardi Gras and the mask helps cover the identity of such individuals. Masks are worn by Krewe members, tourists, and citizens of the city during the last hours of Fat Tuesday. It is a way of self-indulging into acts that are normally against the standard. Wearing the masks and being part of the festival embodies the idea of letting go of the flesh before Lent begins.
Wearing masks during celebrations, festivals and even rituals is a significant part of many cultures across the world. Mardi Gras masks and other types of masks are tied to pre-Christian practices and traditions in various countries. It is tied to religious practices that involve spiritual performances where the performers must communicate with the spirits. Often times, these masks are worn to get rid of evil spirits. While masquerades and other masked events have always been tied to religious practices, the nature of these celebrations has changed in modern and contemporary life.
Clicking the links below will open a new window in your browser with a full description of the Mardi Gras mask for sale on eBay.
| | |
| --- | --- |
| Choose your country: | Change Sort Order: |
Related pages